Bitcoin, The Regression Theorem, and the Emergence of a New Medium of Exchange
Laura Davidson

Walter Block
Keywords:
money, bitcoin, regression theorem, Mises
Abstract
A recent controversy has brewed over whether or not the emergence of bitcoin, as a new medium of exchange, is in accordance with Mises's regression theorem. The main question in the debate seems to be, is bitcoin valued in direct use? The present paper contends that with respect to the regression theorem, this issue has no bearing on bitcoin's genesis, because it is relevant only when a new medium of exchange arises out of a pure barter economy. The debate is therefore predicated on a misinterpretation of the theorem. However, the issue of bitcoin's direct-use value, if it has one, does have relevance in assessing the likelihood it will become a generally-accepted medium of exchange—i.e. money.
Downloads
Download data is not yet available.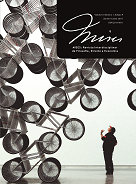 How to Cite
1.
Davidson L, Block W. Bitcoin, The Regression Theorem, and the Emergence of a New Medium of Exchange. MisesJournal [Internet]. 2017Dec.9 [cited 2020Oct.22];5(1):83-8. Available from: https://misesjournal.org.br/misesjournal/article/view/43

This Journal is licensed under a Creative Commons Attribution 4.0 International License.